Maverick has Lyme disease!
This horse has helped many children learn to ride and has served his human Mommy wonderfully. He loves going for trail rides and learning new things in the arena. He had a very hard start to life before being rescued by Sabrina in 2009. While still being a great horse, his family noticed he wasn't acting himself and would often be sensitive to touch. In a random hope to figure out why he "just wasn't himself" a blood test showed he was quite positive for dreaded Lyme. Obviously he will be getting treatment which includes 1,680 capsules of Minocycline, probiotics, medicated bath, and extra feed twice daily! In order to help with some of these costs, Sabrina is commissioning sewing jobs as a fundraiser. The first item she's working on is an english saddle pad though many items available if you just email to ask.
HOW TO "ORDER"
Click the donate button below and enter the value you would like to contribute for medical expenses. With a $40 donation you get a thin saddle pad, $45 donation puffy pad, and a $60 donation gets you either pad with personalized embroidery! Make sure to add special instructions with donation (or email separately) letting me know if you want all-purpose or dressage pad, color or theme, and anything else you want. If specific design is requested, attach a bmp or jpg photo so I can turn it into embroidery on your pad. Designs typically go on rear left side unless specified otherwise (picture below is rear right side). Thank you for being so generous, everyone!
All Purpose Saddle Pad (Dressage Available, just ask)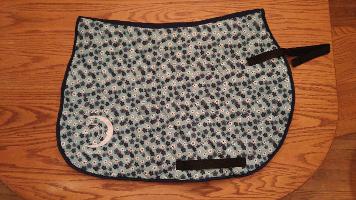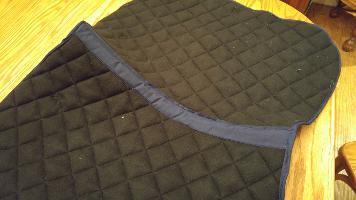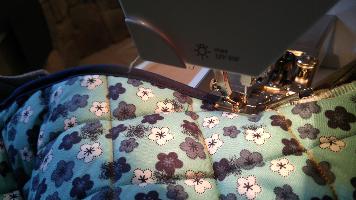 Available in baby pad (thin pad used for protecting other pads, adding color, or liner for half-pad, etc) or puffy padding (quilt theme with slightly more loft than traditional liner pads for extra comfort and great appearance. Optional embroidery for larger donations.